Orders placed on February 13th may not make it by tomorrow!  We will get them out as quickly as possible, but we cannot guarantee same day shipment, especially today!
Chocolate melts!  Our chocolates do not include any preservatives or stabilizers, they will be liquid at 80 degrees F.  It is important to take extra shipping precautions during this time, which includes choosing a shipping service that takes 2 days or less to arrive at it's destination.  The ice packs will last up to a maximum of 2 days in transit.
If you are shipping multiple items to a single address, please call us at 847-864-5504 or email us at belgchocpiron@sbcglobal.net to insure you are provided the most effective and cost-efficient shipping container and rates.
Dark Chocolate Mint
250D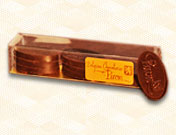 Silky dark Belgian Chocolate infused with the essence of peppermint. 9 pieces in clear acetate box.