The Sweetest Valentine of All!
We have your traditional Velvet Boxes, Satin Rosette Heart Boxes, even a Chocolate Heart Box filled with Chocolates!
Please click on each photo below for further information.
For the smaller token of love, we have single solid chocolates all bowed in red or heart bows, as well as chocolate heart pops, and bags filled with a dozen hearts finished with a red satin bow! Availability is limited for these smaller gifts of love, so please call us at 847-864-5504 to order, and please note that only the dozen hearts can be shipped. The single hearts are too delicate to travel.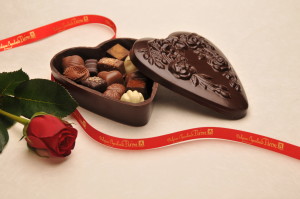 A beautiful rose covered chocolate heart gift box, filled with 11 of our Signature Chocolates, beautifully wrapped in crystal clear cellophane and topped with a seasonal hand-made floral ribbon cluster.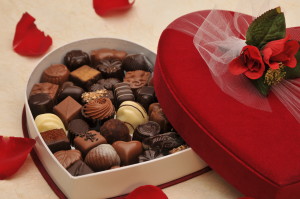 Velvet or satin heart-shaped boxes, filled with our exquisite chocolates (15 oz for the large, 7 oz for the small). Pure Love!