Check the weather in Chicago and your gifts destination city. If above 65 degrees F. please purchase an insulated container and a shipping option that does not exceed 2 days.
Chocolate melts! Our chocolates do not include any preservatives or stabilizers, they will be liquid at 80 degrees F. It is important to take extra shipping precautions during this time, which includes choosing a shipping service that takes 2 days or less to arrive at it's destination, and purchasing an insulated container with ice packs. The ice packs will last up to maximum of 2 days in transit.
If you are shipping multiple items to a single address, please call us at 847-864-5504 or email us at belgchocpiron@sbcglobal.net to insure you are provided the most effective and cost-efficient shipping container and rates.
Chocolate Heart Box
602D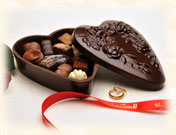 The perfect gift for any occasion! A heart-shaped box made of chocolate and filled with 11 pieces of our Premium assortment. Milk or Semi-Sweet. (Sorry, not able to ship to warm weather areas or during the summer.) Our Chocolate Heart Box can be purchased in our Evanston store - please call ahead for availability.
Choice of Chocolate Heart Box
Semi-Sweet Chocolate (0) Milk Chocolate (0)
Choice of Chocolates
Assortment (0) All Milk Assortment (0) All Dark Assortment (0)